How TeQflo Amsterdam turns Dutch companies into Digital Masters
av Vincent Onderdelinden, på March 12, 2020 12:38:22 PM CET
We are very excited to announce that as of March 2020, TeQflo Group will be opening their very first international office in Amsterdam, The Netherlands. We've already seen great successes in our home country Sweden. Now, we are proud to say that our digital transformation consulting company is more than ready for this next big step. Keep reading if you to know how we can help you become a Digital Master!
Who is TeQflo and what is our raison d'être?
Like it or not, as we're living in the Digital Era, in many industries the degree of an organisation's digitalisation is a lead indicator for success, growth and prosperity. Failure to lead, manage and - most importantly - thrive on digital change has already resulted in the downfall of many, and a dramatic loss of competitive edge of many more. And that, dear business leaders and executives, is precisely where TeQflo's digital consultants jump to the rescue!
TeQflo is a digital transformation consulting company. We are on a mission to create and shape Europe's Digital Masters.
The image below explains how digital mastery can be categorised into four segments: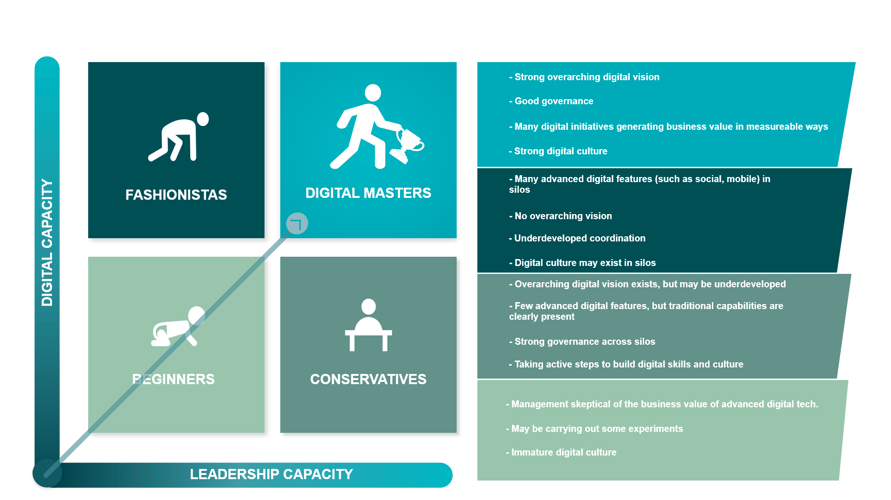 Digital Beginners

- Leadership does not have a digital mindset, is afraid of evoking digital change, and - in some cases - even actively rejects digitalisation. These are typically the highly traditional companies who have "always done business in a certain way" and are reluctant to combat the perceived safety of status quo. Corporations like this will experience a slow and steady decline in competitive edge and profitability. Ultimately, they will slowly fade away, only to be replaced by their more digitally-minded and smarter competitors.
Digital Fashionistas - This group includes many organisations out of the technology industry and other rapid-growth sectors. Leadership tends to have a strong will and drive to digitalise, yet they often lack the skill or resources to truly make it happen. These kinds or businesses will attempt to adopt and leverage digital capabilities, but all too often have an insufficient overarching vision - hence resulting in ineffective digital silos and lower than anticipated digital ROI.
Digital Conservatives - As opposed to Digital Fashionistas, this type of organisation usually does have access to the required skills and resources to reap the full benefits of digitalisation. It is mainly their more conservative mindset at leadership level that prohibits any real digital progress. In other words, they have a shortage of the strong will and drive to truly digitalise that Digital Fashionistas do have. In practice, we often see the larger and more bureaucratic companies out of the more established industries adhering to this description. It's a shame, because the additional value to be created for its customers and shareholders has enormous potential!
Digital Masters - Only a very small subset of organisations and leaders will be able to refer to themselves as digital masters. Those are often the ones that manage to grow at lightning speed and massively outperform their rivals in terms of customer-centricity, ability to leverage data and automation, and ultimately stock market value. They understand that digital mastery is a never-ending journey, and they work tirelessly to develop their competences and lead for digital change.
At TeQflo, we focus all of our attention on those willing and able to embark and continue on their journey to achieving digital mastery. In practice, we see most success when helping either Digital Fashionistas or Digital Conservatives develop, achieve and retain their status as Digital Masters.
How would you classify your organisation today? Where should you be tomorrow? Who is going to lead that change and how are you going to get there?
Who are we dedicating ourselves to?
We work best with mid-market CxOs and Executives who have a real and unstoppable desire to drive growth and prosperity through digitalisation. The lust for results alone isn't good enough. We need our customers to put in the work themselves, because ultimately lasting digital change can only come from within the organisation.
CEO

- Being ultimately accountable for company survival and growth, steady digitalisation should be a top priority for any future-minded CEO, Managing Director, or entrepreneur (and Board of Directors). As an organisation is nothing more than a group of people working together towards a common goal, without the right digital talent with the right digital competences in-house, the future of any company may turn out bleaker than desired!

CIO

- A well-integrated IT infrastructure that delivers real business value in the shape of organisational efficiencies, communication and collaboration, cybersecurity and data-driven insights is key for the modern CIO. The IT team can no longer work in a vacuum outside of the operational, growth and support functions - and vice versa. Aligning digital technology with people and processes is a major component of digitalisation, and the effective CIO must play a big role in leading and managing digital change throughout the business.

COO

- Frequently being operational and process-driven masterminds, a great COO must always be on the look-out for how to run things smoother, faster and smarter. They thrive on data-driven and actionable insights. Adopting, implementing and managing the right digital technologies to help their teams excel in ever-improving systems is one of the key traits that set top COOs apart from the rest.

CSO

- Sales leaders care about sales numbers. Revenue and growth are directly tied to sales productivity, which in turn is a function of sales effectiveness x sales efficiency. Think about examples such automating low-value sales tasks, making sales outreach more personal at scale to grow the pipeline, having a better data-driven understanding of who the best prospect really is, or giving the sales teams much better insights into the actual buying intent of their customers. Want to build better and more revenue-generating customer relationships? Then digitalisation of the sales organisation is the answer!

CMO

- Marketing organisations that aren't digitalised to a certain degree have become the exception rather than the rule. On the other hand, for many CMOs it has become harder than ever to draw attention to their products or services. Lead generation is a top worry for marketing and sales leader alike. Automating a few things here and there isn't good enough anymore. The best CMOs understand that, in order to help their companies win, they must leverage data to personalise and tailor their marketing messaging beyond anything the modern buyer has already gotten used to.
What makes TeQflo different in the digital consulting landscape?
Traditionally, digital consulting firms tend to specialise in certain specific competences or fields of expertise:
Strategy and operational excellence consultants are unparalleled at analysis and painting the big picture, but are often not as strong in execution or getting their hands dirty.
IT and technology consultants have fantastic technical skills and knowledge, but are typically not as well-versed in business strategy or making a direct impact on their customer's growth.
Marketing, sales and recruitment consultants know how customers can grow better by generating more leads and revenue or growing their teams, but usually find it more difficult to evoke lasting organisational change and align with the technical side of the business.
We have designed TeQflo to be single-point digital transformation consulting company that can provide strategy, IT, growth consultancy under one roof. We've seen first-hand how impactful and lasting digital progress is made when leadership teams, growth and operations teams, and IT/technology teams work together in harmony. That is where real Digital Masters are made, and that is where we can make a difference for our customers.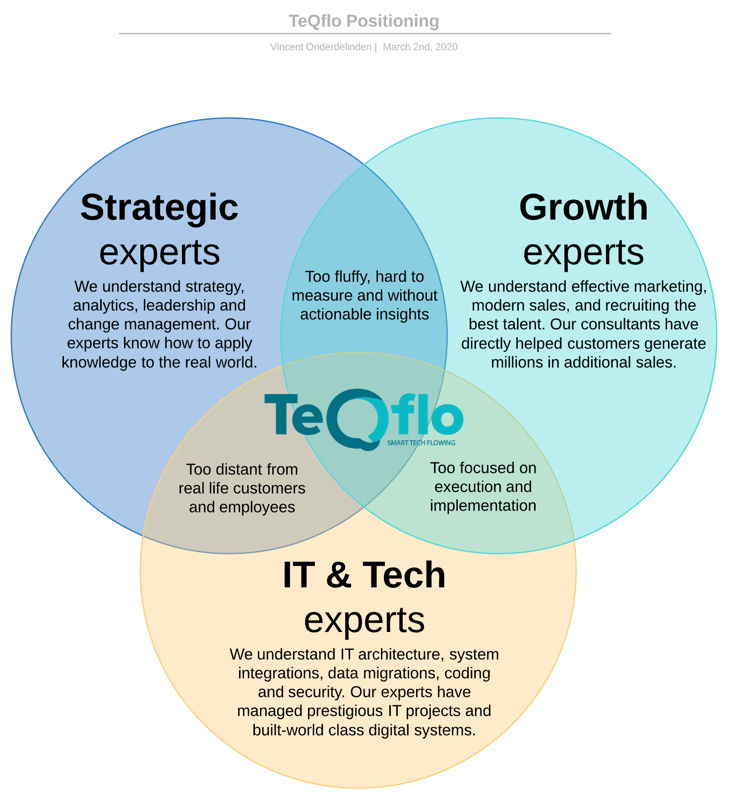 We are usually brought on board as long-term digital consulting partners, to help our clients embark and continue on their journey to achieving Digital Mastery. However, our digitalisation projects and ongoing services ultimately serve to help our customers survive, thrive and increase their bottom-line results. We understand that, and we will do everything in our power to help you become the industry leader of tomorrow!