How to Avoid Losing Good Customers with HubSpot
av Vincent Onderdelinden, på March 30, 2020 1:06:25 PM CEST
We're living in turbulent times. At the time of writing this article, we're amidst the global COVID19 pandemic and we're facing a recession worse than the one in 2008. People are unable to meet, both privately and professionally. Small business owners may need government support to feed their families. The world's largest businesses together have lost countless billions in shareholder value overnight.
Regardless of company size, we'll all be taking similar hits: customers may be unable to purchase goods anymore, projects big and small will be put on hold, purchase orders will be postponed, and some of our customers will stop investing all together.
Making our business more resilient to take on challenging times like these, should be a top priority!
How do I make my business more resilient?
Sticky companies are resilient companies. Let's start by stating that customer retention is not just a job for your service or support team. Marketing and sales also have an essential role to play. At least, that is how it should be. Ultimately, marketing, sales and service teams all have a direct impact on your bottom line.
If all the three teams are well-aligned throughout the entire buyer's journey, you'll find that your business adds much more value, prevents more customers from leaving, evens grows more existing accounts, and in the process becomes much more resilient along the way. This does not just happen overnight though, so it's important to get started sooner rather than later!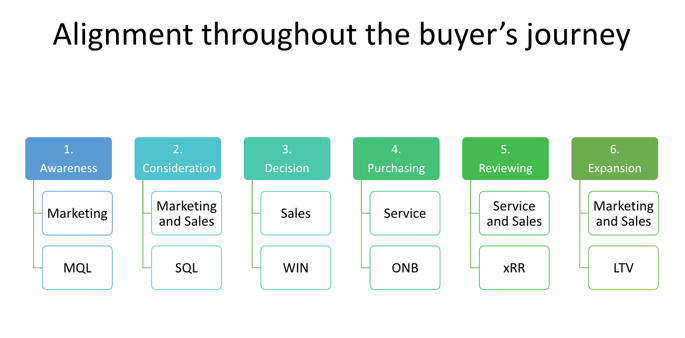 Marketing generates interest and demand amongst new

and

existing customers

Sales converts qualified demand into new, retained and additional revenue
Service onboards new customers and ensures their problem gets solved adequately
---
Do you own or lead a medium-sized business in trouble? Get a private coaching & consulting session FOR FREE!
If you need help, write us about the key problem you're facing and we'll help you come up with some feasible options.
CLICK ON THE BIG RED BUTTON TO GET GOING:
What can HubSpot do to prevent my customers from leaving?
We've been a productive HubSpot partner since 2018. We've even hired a former HubSpot employee to launch and build our first international office in Amsterdam. We know what HubSpot can do for your organisation, and helping you prevent customers from leaving is certainly one of them. Here's how you could leverage their growth platform:
1. Use the customer feedback tools to listen to your clientèle
Use customer satisfaction surveys to identify unhappy customers, so you can take corrective action before the customer's decision to leave is irrevocable.
Use customer loyalty surveys to understand how likely customers are to stay in business with you. If you haven't invested much in customer loyalty, they're much easier to seduce by competitors.
Use customer support surveys to get a sense of how fast and easy it to get help from the support team. The better the support, the less likely it is customers get fed up with bad service and take their business elsewhere.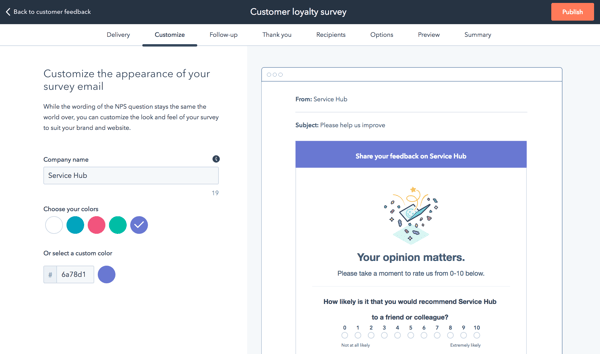 Many companies also use customer feedback surveys to understand what new products, features or services their customers want them to develop. It would be a shame if competitors can steal away customers, just because you weren't aware of what your customers needed you to build. Really, customer retention comes down to caring about what your customers want you to care about. Nothing more, nothing less!
2. Analyse and categorise customer feedback data
Collecting customer feedback is just the start. Next comes analysing and categorising this big pool of information. Without proper analysis, it's much harder to prioritise and action the most important feedback. With HubSpot, there's no need to do any of this manually. The platform will bucket and summarise the data for your support team, so they can actually focus on contextualising, strategising and problem solving. In other words, give your team insights they need to avoid losing customers.
Some important questions might want to answer for yourself could be:
Which customer complaints occur most frequently and hurt my business most?
Which customers are most dissatisfied right now, and why?
Which customers are basically on the verge of dumping my business?
How are we trending from a loyalty perspective, and do our loyalty initiatives actually result in higher retention?
3. Action feedback, do better, and prevent customers from leaving
Here's where we separate those who lose customers from those who keep customers. Asking for feedback is nice. Analysing feedback is smart. But in the end, actioning feedback is the only thing that really matters. HubSpot's Service Hub can help you do so in an automated way!
For example, if a customer satisfaction survey tells you someone is very unhappy, you could have an automated trigger to go off to make sure a support rep gets a task to call the customer right away. Or if there are regular complaints about the support team, their manager could be notified and she could work with the team to provide better customer service. With an abundance of use cases, HubSpot's automation tools can also make a big difference on the speed and quality of your service actions!
Especially in tougher times, caring about and listening to your customers is what keeps them loyal to your business. HubSpot's feedback tools will make that much easier!
---
We specialise in leading digital transformations that result in profitable growth. In order to leave our customers with a legacy, we offer a unique set of clear, concise and result-driven digital consultancy packages.
Click on the button if you're ready to make the necessary fundamental changes needed to survive and thrive:
4. Use marketing automation to build a stronger customer relationships
In many cases, customers not leaving is really the bare minimum. Ultimately, you want customers to purchase more products, more often. HubSpot's marketing automation system can help you generate demand from existing customers just as much as it can help generate new business. Especially in combination with HubSpot's feedback tools described earlier, companies have access to a very powerful system to build stronger customer relationships, resulting in a much more resilient business.
Here are just a few examples of how you could use marketing automation in combination with customer surveys:
Send personalised marketing offers to your happiest customers, to try and make them purchase any additional products or services
Send personalised marketing offers to your least engaged customers, to show that you care about their business and are willing to invest in the relationship
Send personalised marketing messages to customers who've left a complaint, to acknowledge their concerns and improve their customer experience
Enroll your most loyal customers in a marketing campaign to ask for references, lead referrals, etcetera
All of this can be done automatically. You just tell the HubSpot system what you want it to do, and that's it. No more up- and cross-sell leads that fall through the cracks. No need for your sales team to call each and every customer to identify an opportunity. No reason why your customers would feel ignored, unappreciated or taken for granted.
The technologies to avoid losing customers while build stronger customer relationships are widely available. You just have to get started!
---
Can't bare the thought of losing another good client anymore?
Want to learn about 5 of the most common reasons why YOUR customers leave?
Are you ready to make serious changes and PREVENT more customers from dumping you?!
CLICK ON THE IMAGE BELOW TO DOWNLOAD THIS FREE GUIDE NOW: