How To Be a Hero To Your Customers With Inbound Marketing
av Vincent Onderdelinden, på April 30, 2020 11:00:00 AM CEST
Digital transformation should always be about improving the customer experience. Because in the end, every business exists only by the grace of its clients, patients, members and buyers.
What you sell, how you sell, and how you build relationships are at the core of the experience you provide your customers. That's exactly why inbound marketing is key. As a methodology, it's one of the best ways to transform your marketing strategy into one that magnetically attracts leads and customers!
Let's start by getting the main objection against inbound marketing out of the way first. Yes, inbound marketing revolves around helpful content. Yes, producing that kind of content takes time. You also need at least one hand to type with, a few interesting topics, and some basic writing skills. But ultimately, you'll be rewarded with a steady flow of more good leads and more educated prospects, resulting in more sales opportunities.
Modern buyers need and expect information to make a purchasing decision.
Companies who aren't producing and sharing helpful content typically experience three critical revenue challenges:
Number of new qualified leads is too low
Number of new sales opportunities is too low
Number of new deals and customers is too low
Companies that don't produce content are not deserving of their customers' attention in the first place. If you don't care about your buyers' needs for education, why would they care about your solution? It's just not how it works anymore. These kinds of companies will unquestionably be perceived as B-players, if even that, and they'll be treated as such. Buyers want quality purchasing information; you either give it to them, or your competitors will. Simple market forces.
Why inbound marketing is the best strategy for your bank account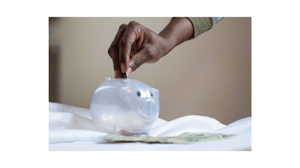 Most of us know that inbound marketing favours quality content over anything else. The most important drivers for success are the width of your brain and the depth of your customer understanding. Not the size of your wallet. Organic and original content is actually levelling the playing field between small and large organisations.
Subsequently, inbound marketing is relatively affordable compared to traditional outbound methods (cost per lead is 61% lower). Relevant content such as problem-solving blogs, educational videos, ultimate guides, and honest reviews have to be created only once, but may generate interest and demand for many years. It's almost like buying real estate and then renting it out - invest smart once, benefit perpetually.
Why bad content ultimately results in missed revenue.
I am willing to bet that not a single reader of this blog enjoys being interrupted by an irrelevant message at an unwanted time. A feeling most business leaders should recognize. It astounds me that the exact same business leaders expect their own marketers and sales reps to do this to their own potential buyers.
Instead, let's put ourselves in the shoes of our customers. Some empathy can really get you a long way here. If considering a purchase, what are your potential customers doing on the internet? When are they looking for what kind of information, and where? Subsequently, what sort of content do your potential buyers want to consume and which interactions will they find most helpful?
"Inbound marketing is a philosophy where companies focus on attracting and engaging with best-fit customers, through human interactions that are actually relevant to the buyer. Interactions refer to the consumption of meaningful content (marketing) and having helpful conversations (sales)."
Obviously, what qualifies any buyer-seller interaction as 'meaningful' or 'helpful' differs massively per person. Relevant is relative. This mainly depends on the questions a prospect was looking to answer in the first place. However, contrary to what many marketers seem to think, prospects rarely search Google for "How many awards has this company won and where can I request a quote right away?
Producing content to highlight your own perceived greatness results in a bad customer experience. Customers just don't care what sellers think of themselves. In the real world, we also see plainly that many websites, blogs, social posts and email campaigns are not customer-centric at all. This is what'll happen:
People have no compelling reason to (re)visit your website or consume content
Then they won't bothered to leave their contact details to become a lead
They certainly don't want to take the time to speak with your sales team
And the last thing they want to do is give you their money
The truth about inbound and content marketing is actually very simple: buyers have problems and questions, sellers may have solutions and answers. Logic dictates that the seller who answers their questions first and solves those problems best usually gets a new customer. And inbound marketing capitalises on that notion.
How to market in a way your customers will appreciate
Let's get back in empathy-modus for 60 seconds. Put yourself in the shoes of your customers, and review your digital customer experience from their perspective. Hopefully, you'll soon realise there are several reasons your customers need you to invest in helpful content and inbound marketing.
First, website visitors, i.e. potential customers, are attracted to your website because they suspect your company might have a solution to their problems - not to read about how amazing you think you are. It is your responsibility to understand what kind of visitors (should) come to your website, what kind of specific buying questions they might have, and how you can provide them with helpful answers through relevant content. You do this by first of all designing a digital go to market strategy.
Be aware: content is NOT just blogs! Your content strategy may contain anything like guides, reports, calculators, assessments, reviews, events, emails, videos, demos, research and more - as long as it makes sense for your customers' buyer journey and quenches their thirst for helpful information.
Now, some of those website visitors will understand that your company might actually be able to help solve their problems. The more helpful and specific your content strategy, the more people will recognise your expertise and added value. Not really rocket science, right?
Generally speaking, those who recognize your company as a potentially interesting vendor are more open to receiving regular marketing communications and allowing your marketing organization to warm them up for a potential purchase. On your website, you need to make it as easy and compelling as possible for those people to convert into leads, i.e. give you their contact details.
People want to be taken through a smooth, simple and swift buyer's journey. A call-to-action leads to a landing page, where the buyer finds a form to request a content offer (e.g. an Ultimate Guide, product review, report, brand book, etc.). She fills in the form and receives her content offer; you've just generated a lead you can warm up through lead nurturing campaigns. It's really that straightforward!
Here comes the most important part: turning leads (someone merely interested in your organisation) into prospects (someone interested in potentially buying your product or service) and sales opportunities. Here's where digital technology in the shape of marketing automation plays an essential role.
To be very clear, there is absolutely NO business value in having a bunch of leads if you can't convert them into prospects, let alone into paying customers. That is like going fishing, but not bringing any bait or your fishing rod: a complete waste of time.
The crucial role of marketing automation
The process of turning leads into prospects is called lead nurturing. This is a critical part of your customer experience strategy! Marketing automation will ensure that different types of leads, with different problems and questions, at different stages in their decision making process, receive helpful answers that are relevant and timely for them as potential buyers - in an automated way. It basically works like this:
Segment your database to target your best leads only
Profile those leads by collecting data and insights
Differentiate between interest and buying intent
Engage automatically with more relevant content
Measure how well your marketing efforts perform
Do more of what results in sales, stop doing the rest
For example, after a lead has downloaded a first report about Big Data from your website, a week later you might want to offer another content piece about a similar topic, and then another week later invite them to a seminar about Big Data for CIOs. And that's how you nurture warm leads into hot leads through automated education.
Remember why these strangers came to your website in the first place? Because they suspected that you might be able to help solve their problems, which as it now turns out, you actually can. Now THAT makes a great customer experience!
Inbound marketing self-reflection exercise (3 min.)
For this exercise, reflect on and answer the questions about your own company below. Be as specific as you can. Do not move on to the next question, until you come up with a satisfactory and succinct answer your leadership colleagues would be impressed by:
Who is our buyer persona? Where do they work (geographically, industry, etc.)? What kind of professional or personal

goals

, responsibilities and authority do they have? What KPIs are they measured on, and what sort of

key challenges

will they need to solve now and in the near future?
Why would they visit and come back to our website? How would they even find us? How well-educated are they in relation to our solution? What buying questions would they be looking to answer? What sort of interesting content can I offer them, and how compelling is that really? What proposition or valuable knowledge do I have to offer that's different from my competitors?
What plan do we have to turn visitors into leads and customers? What would make them buy from us? Why would they leave us their contact details in the first place? Which questions are most pressing to them? How open are they to working with us? Which competitors are they also researching? What are we doing to influence their perception of us on an ongoing basis?
To be honest, most companies don't get past a rather fluffy answer like:
"Our customers are other B2B companies in region XYZ. Not sure how they usually find us, probably a referral or something. We also send out regular newsletters and we run some online ads, but we don't really measure what works. What makes us different is that we REALLY work with the customer to help them achieve their goals (wow, big differentiator!). So yeah, our marketing team is pretty busy, but we still can't seem to find enough new customers!"
The graph below lets you answer most of the important questions you need to ask yourself about your buyer personas. If you want to design a proper inbound marketing strategy, you need to know who you're targeting and what he or she needs from you. Obviously, your marketing content needs to relate to what you're writing down here:
Buyer persona (Example)

Name

CEO Carlo
Demographics

Location, age and gender

Netherlands, 40-55, male

Sector, industry and size

Technology, cloud software, ca. 50 employees

Title, role and seniority

CEO/Managing Director/Owner

Educational background

Master's degree in Engineering or Business
Psychographics

Personal motivators

Making a real impact, financial freedom

Professional goals and ambitions

Maximize profits and get acquired in 3-5 years

Professional challenges we can solve

Growth too slow, high churn rate, IT costs too high

Personal challenges we can solve

Spends far too much time on sales himself

Held accountable by...

Investors and co-founders

Performance metrics and crucial KPIs

Sales, growth and profits

Most important tasks and responsibilities

Go-to-market strategy, hiring and sales

Where he looks for new knowledge

Trusted network, LinkedIn and industry peers

Key skills to be successful

today

Decision making, taking calculated risks, communication and delegation

Key skills to be successful

tomorrow

Understanding new tech, data-driven decision making, empathy, flexibility and openness

Definition of success

Doing meaningful work and providing for his family
What do you think? Useful exercise?
The customer experience starts the second a person lays eyes on your website. From that moment onwards, it's your responsibility to convince potential buyers of your added value. The formula is simple: produce helpful content, measure what works, iterate if necessary, and scale up. Inbound marketing and marketing automation are really two of the most straightforward and impactful applications of digital transformation.
If you're not investing in inbound marketing for your own sake, then at least do so because it really is what today's buyers need from you. Think about it this way: whatever helps your customers, usually also helps your company, right?