Integrate These 4 Proven Pipelining Strategies For Spectacular Results
av Vincent Onderdelinden, på April 14, 2020 11:30:17 AM CEST
Imagine a consistently healthy sales pipeline... What a peace of mind you could have, if only you could trust your marketing and sales teams to deliver a sufficient number of new qualified opportunities every month. How likely does that sound to you?
A fatal mistake in B2B lead generation is to just keep doing what you always did. If you're afraid of investing in additional lead sources and programmes out of fear of what might or might not happen, your marketing and sales organisation is never going to improve. Here's why:
Ineffective or outdated lead generation processes => lack of good leads => lack of good opportunities => lack of new deals => lack of sales and growth.
Instead, I would argue that any modern sales organisation should invest in all four of the below pipeline building strategies in parallel. Effective opportunity generation isn't a matter of either/or, it should be a matter of and-and-and-and for the best results. The trick however, is to integrate all of these separate initiatives into one single, overarching, well-aligned, and measurable pipeline building strategy.
Step 1: Use inbound marketing to grow and enrich your database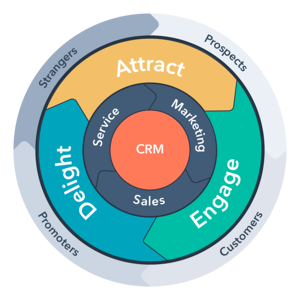 Best technology: HubSpot
Inbound marketing is a long-term marketing strategy based on helpful content production, with the purpose of attracting, converting and nurturing the right type of buyers through your online channels. Doing this well will significantly increase the output of your marketing engine, in both an organic and consist way. Subsequently, this will help your sales team identify who engages with your marketing initiatives and which companies frequently interact with your brand. That information the sales reps can then use to try and build relationships with the right people on, for example, LinkedIn.
Tip: Beauty is in the eye of the beholder, and the same goes for your marketing and sales strategy. Always start with designing a sound digital go-to-market strategy and rigorous buyer persona research, because every single piece of marketing content and every sales interaction should be relevant and personalised for specific types of buyers with specific types of challenges.
Step 2: Get on LinkedIn to identify and research decision makers
Best technology: LinkedIn Sales Navigator
In order to sell more, your sales team will have to build more and better relationships. In order to build more and better relationships, your reps will have to speak with more of the right people. In order to speak with more of the right people, your reps will need to find and identify them first. Social platforms, and for B2B companies especially LinkedIn, are by far your best bet when it comes to finding and engaging with your (potential) customers at scale.
Tip: Because LinkedIn promotes professional engagement and interaction, there's a ton of personal and behavioural data to be found and leveraged by trained social sellers. Think about current titles, responsibilities, locations, business relationships, professional opinions and experiences. If you know how to read and interpret someone's LinkedIn profile, it's relatively easy to initiate a highly tailored and personalised conversation - regardless of how and where the actual reach out takes place.
Step 3: Use marketing automation to turn leads and MQLs into SQLs
Best technology: HubSpot
Generating new leads through inbound marketing and social selling is great, but ultimately it's sales qualified leads (SQLs) and sales meetings that's going to drive business growth. Amongst others things, marketing automation will help you:
Segment your marketing database to identify your most engaged and best-fit leads. Statistically, at any given moment in time, ca. 4% of your b2b database will be willing to speak with your sales team, and they should be surfaced and targeted right away. About 46% may be ready to consider your solution but isn't ready right now, and this segment should be nurtured and educated consistently. The latter 50% is, on average, not a good-fit and no marketing or sales resources should be wasted on this group.
Nurture those leads into SQLs by sending them the right content, at the right time, with the right call-to-action. Think about relevant and helpful email campaigns, retargeting on social media, leveraging online behaviours to send out personalised offers, but also hosting events for example. There are many ways to nurture a prospect, and you must understand which ways work best for your buyer personas.
Measure how well your digital marketing engine is actually performing in terms of closed revenue. Its' key you identify which initiatives drive real value for both your company and your buyers, versus which initiatives do not deserve any more resources based on real-time and accurate data.
Tip: Marketing automation does NOT magically deliver leads. It's really just smarter, more efficient and data-driven marketing compared to doing manual/traditional marketing. Your marketing team is still going to need to produce content to feed the marketing automation machine, and you're going to have to strategise, reflect and adapt frequently. Marketing automation is no joke, but if done well, the increase in lead quality makes all the difference between becoming a leader or the industry loser.
Step 4: Send brief videos to get attention and schedule sales meetings
Best technology: Vidyard
Humans are wired for video much more than they are for text. I would highly recommend your sales team start leveraging video prospecting. It's simple yet ingenious: sales reps will be sending brief, personalised and relevant videos to the potential buyers that were identified as lead or SQL by your marketing automation platform. Your sales reps will come across much more human-like than if they were to send regular emails. In turn, they'll probably delight your leads with this unique approach, and will certainly significantly increase their conversion ratios from outreach to meeting. Ultimately, sales is a numbers game and video prospecting could be the best way to make the numbers work for your organisation instead of against!
Tip: Leverage inbound marketing to capture email addresses and interests, identify on LinkedIn which leads are decision makers and use their profiles to research them, then make sure your automated marketing campaigns nurture them until these decision makers are a hot as they can be, and then swoop in with a highly personalised and human video to actually book that amazing sales meeting.
Which of these four are you already doing well? Where do you feel your sales organisation can and should improve?
---
Outdated and ineffective lead generation strategies limit growth, or sometimes even result in bankruptcy. Marketing doesn't really know what they're doing. Sales doesn't have enough opportunities to work on. Business owners and leaders despair. Our digital experts can help you take back control of the company's success.